XChat: Quick Start Guide
This guide applies to XChat 2.6.1 or newer on any platform, be it Windows or Linux.
When you first start the program you'll be presented with this window: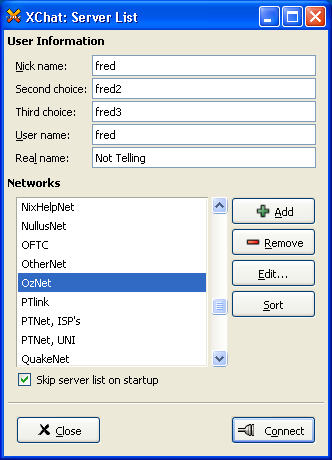 Here you can choose your nickname, a second choice (in case it's already taken), username
and realname. The username can generally be anything you like, just make it up.

The next step is to choose a network to join. This is a matter of
personal taste, I can't really recommend one! Some are better than others,
you'll have to experiment. In this example, I'll join OzNet, an Australian
network. Just select the row and click Connect.


---

Hopefully your internet connection is working well and you've connected.
This dialog will pop-up so that you may join some channels (chat rooms).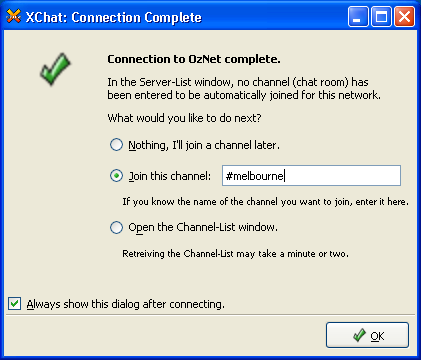 In this case I know the name of a channel e.g. #Melbourne (IRC channels
usually begin with a hash symbol), so I'll type it in and click OK. If
you don't know any channels, select the 3rd option Open the Channel-List Window,
this'll open a window and list all the possible channels on this network.


---

Once you've selected a channel, XChat should join it for you and you'll get this window:



That's it, you're now online! Any more questions? Try the XChat Forum.